Georgia Basketball Photo Shoots took place while the Football Team sent a part-time Football Coach 52 reasons to retire.
Don't wait until November 6th to see the new Dawgs in their new uniforms.  Might as check it out now!  Also, the rarity of seeing Georgia Basketball players wearing RED in Stegeman Coliseum provides an interesting touch as well. Georgia wears white or on one designated game a season, silver, for home games.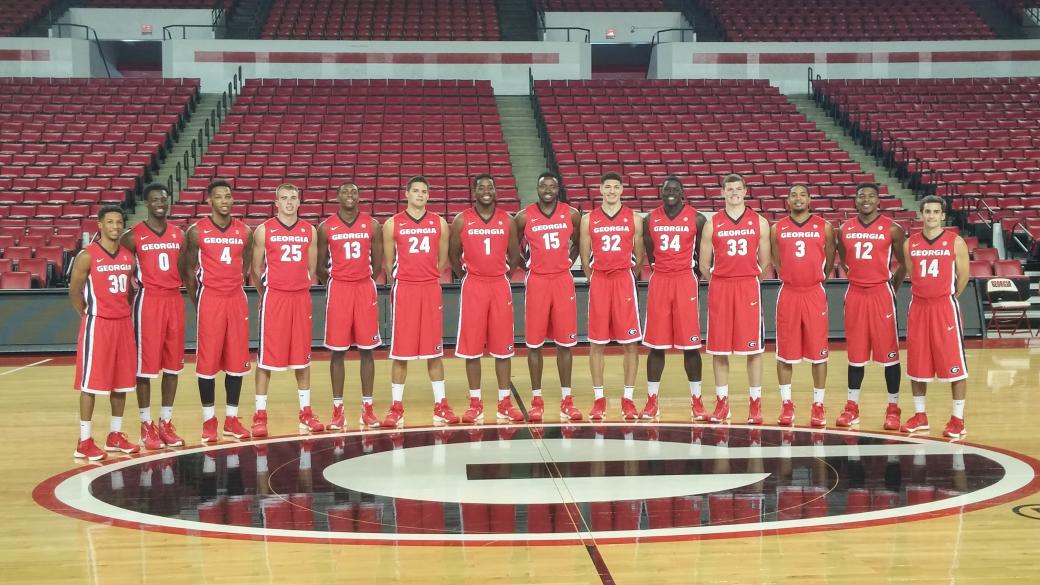 Take a good look at this fans because this only happens once a year.  From left to right:  J.J. Frazier, Will Jackson, Charles Mann, Kenny Paul Geno, E'Torrion Wilridge, Houston Kessler, Yante Maten, Osahen Iduwe, Mike Edwards, Derek Ogbeide, Connor O'Neill, Juwan Parker, Kenny Gaines, Brandon Young.
From hardwood to asphalt. E'Torrion capped off the team's video shoot at Bishop Park. #RaiseTheFlag #CommitToTheG pic.twitter.com/jqN2SOwFH8

— Georgia Basketball (@UGABasketball) September 20, 2015
Would be even more encouraging if it was Kenny Gaines or Juwan Parker, but E'Torrion can certainly dunk.
Bright lights | Big talent @ugabasketball#RaiseTheFlag#GoDawgspic.twitter.com/zHgmtw4lQI — Georgia Video (@Hunkerdown_UGA) September 20, 2015
Derek Ogbeide and green paint were not available, so this was the next best thing!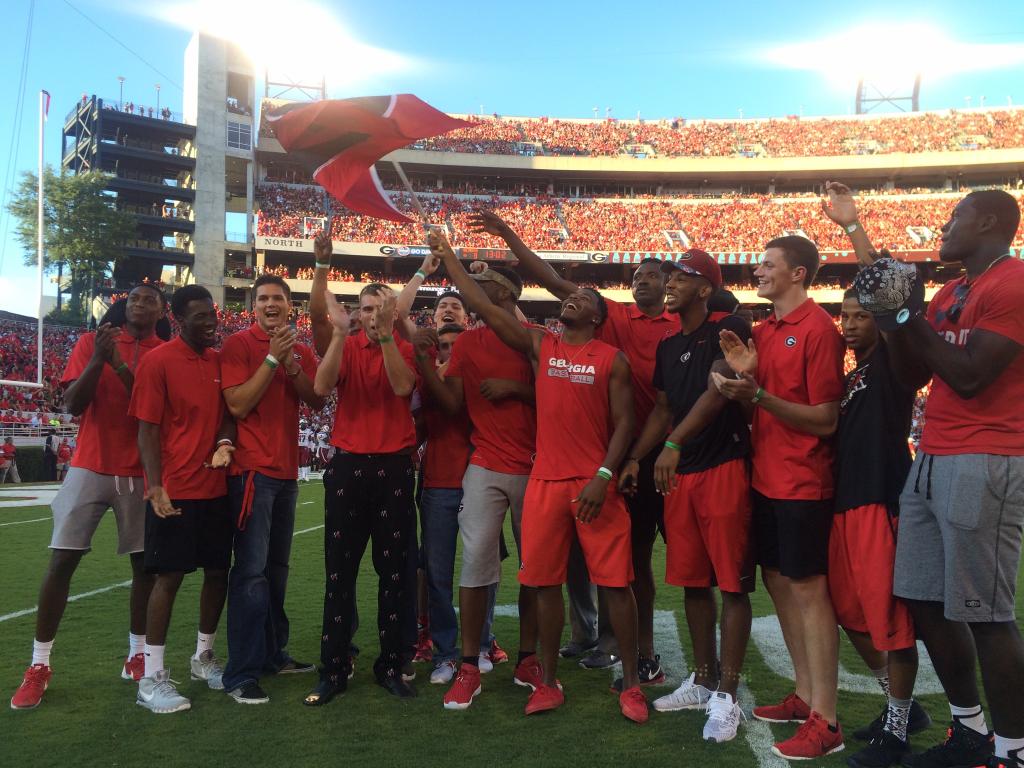 The team was featured during a break in action during yesterday evening's Georgia-South Carolina game.  Two notable recruits were there:  6'5″ Shooting Guard Alex O'Connell (Class of 2017) from Milton, Georgia and 6'9″ Power Forward Jordan Bruner (Class of 2016) from Columbia, South Carolina.  Bruner's interests never included South Carolina in his recruiting. With Yale on Bruner's list, UGA conveniently brought out the NABC Honors Court including Juwan Parker and Houston Kessler at Halftime.
Juwan and Houston were recognized at halftime for being named to the NABC Honors Court. #RaiseTheFlag #CommitToTheG pic.twitter.com/521gqtbfKf — Georgia Basketball (@UGABasketball) September 19, 2015
Georgia is 0 for 2 recruiting against the Ivy League when it comes to the Class of 2016.  Mark Fox and his staff are trying to avoid 0 for 3 when it comes to Bruner.