Why Football comes first at Georgia is a sensitive and controversial topic.  In fact, Let's Consider this a "Trigger Warning".
Everyone acknowledges that Georgia is a "Football School" despite not winning a National Championship in Football since the 1981 Sugar Bowl.  Between the last opportunity to win a Football National Championship at Georgia in the 1983 Sugar Bowl and the present time: Georgia has had made it to a Final Four in Men's Basketball, won a College World Series, won five straight Gymnastics National Championships, six Swimming and Diving National Championships and much more titles including an extremely impressive run by Andy Landers cementing himself as the greatest Women's College Basketball coach to never win a National Championship.  However, Georgia Football gets the hype despite only coming up with two SEC Titles since 1982.  Georgia Men's Basketball has won two conference tournament titles and a regular season title during that same time frame.
Sanford Stadium consistently sells out and has lots of ticket scalping volume along with a large influx of tailgaters that are there just for the pre-game party whether it be for a game against Auburn or an opponent such as Louisiana-Lafayette.  Cannot say the same about Stegeman Coliseum when Kentucky, Florida or even Tennessee come to town for a Men's Basketball game.  Foley Field remains one of the smallest venues among power conferences when it comes to Baseball because the demand dictates it.
So why is it that Football Comes First at Georgia?
1.  Nostalgia for the Early 1980s.
In the early 1980s, Georgia was on top of the college sports world.  Georgia's Football program had a savior in the form of Herschel Walker despite a defense that was extremely underappreciated.  After this National Championship, the UGA supporting Baby Boomer Generation would hold all running backs to the Herschel Walker standard and sickeningly expect that every coach operate with the same philosophy as Dooley did back then.  It is actually quite creepy and then hearing future generations that were not even conceived during the days of Dooley spouting "Run the Damn Ball" when the game of Football has changed so much since 1982, it is looking backward not forward.  The good old days were not always good and tomorrow is not as bad as it seems, at least that is the way Billy Joel put it.
This is much like what Georgia Football fans have been trying to do to Garrison Hearst, Rodney Hampton, Todd Gurley, Danny Ware and now Nick Chubb.  Georgia Football fans have no right to make fun of Alabama's obsession with Bear Bryant, Houndstooth or the cult of Nick Saban.  As long as this continues, Georgia fans are just as creepy if not worse because our fanbase actually expects that a running back can take 46 carries and the punishment that comes along with it in exchange for just a college education.  "The Ball Ain't Heavy" needs to go, sorry.  As amazing of a human being Herschel Walker may be, as a fanbase, we sort of exploited a man with Dissociative Identity Disorder and held his mentality up as a standard for future running backs.
Herschel Walker thankfully has put a rough mental illness into the spotlight so that improves awareness, treatment and acceptance.  This may be his greatest contribution to our world, not a National Championship or Heisman Trophy.
2.  Southern Pride and Football as Therapy
Strangely, when considering UGA as compared other universities in the SEC prior to expansion, Georgia had the point of pride as it hosted a successful Olympic Games in 1996 (outside of an awful terror attack).  Many UGA alumni flocked to a growing and bustling city of Atlanta during a time when our peers within the conference did not have an international city in their midst.  The State of Georgia was given the opportunity to evolve past an ugly history to become a regional powerhouse.  This is a major advantage that the University of Georgia enjoys.  The influx of transplants into Atlanta far surpassed other southern cities.  UGA became jokingly the University of Atlanta in Athens as a result.   UGA stood out because of its close proximity to an international city and enjoyed the rewards of it.  The rest of the universities of the SEC did not with the exception of Vanderbilt.
The thing is that everyone forgot about this advantage and the inferiority complex that has plagued the states of the Deep South manifested itself through Football.  Remember, showing the Northern states that you can beat them at something was a BIG DEAL.  When Georgia defeated Yale in Football it was a big deal.  This sort of regional pride continues today.  Southern Football became a big deal when the southern institutions were able to prove that despite their economic disparity from those up North, they can still beat them at something.  It is not a bitterness over a losing a war several generations prior, it was the way it was done and the aftermath of the war.  The complete mishandling of Reconstruction damaged race relations in America and the economy of the Southern states, but it had a side effect in the form of a massive chip on the shoulders of proud Southern men and women.  Football was the therapy.
3.  Founding the SEC Meant Turning Away from Colonial/Coastal Sensibilities
Being a part of the Southern Conference and then Southeastern Conference meant adopting the priorities of being a Deep South state.  It was not long ago when the University of Georgia was on par academically with Deep South institutions that lagged behind the rest of the country.  Georgia, Alabama, Mississippi, Florida and Louisiana were united as far as interests and purpose.  Football was to be King and the fan populations ensured it to be so.
Major population shifts of the late 1980s brought the University of Florida out of the Deep South mindset and forced the university to pursue National interests as an academic institution.  The immigrants from New York and New Jersey escaped to South Florida, not just to spend the last few years of their lives, but to actually create a new life.  Florida became a cultural melting pot and with it came a taste for Basketball.   The love for Basketball stretched down the East Coast all the way down to North Carolina and then skipped over South Carolina and Georgia down to the Sunshine State.  Florida balanced out the old love for Football with the new love for Basketball.  The culture of the New York and New Jersey immigrants placed pressure on the University of Florida to win AT EVERYTHING.  This is the mentality UGA folks should adopt.
Choosing to be aligned with Auburn, Alabama, Ole Miss and LSU over Wake Forest, Maryland, North Carolina and Duke meant Football was the culture of choice.  When Georgia Tech left the SEC to be a part of the Metro Conference and then the ACC, its own exit not only symbolized a rejection of the conference it was a rejection of the Football First culture.  Georgia Tech would soon become known for Basketball rather than Football on the National stage.  The rise of the NBA along with the success of Lethal Weapon 3 in the NBA only helped promote their program more.
Today, things have changed greatly as the regional distinctions begin to blur and all programs pursue the same sort of talent in all college sports.  However, Georgia fans continue to culturally associate themselves more with their Deep South rivals rather than the coastal institutions that were spurned in the 1930s.  The coastal institutions are perceived as wimpy programs compared to the "Real Men of the SEC".
4.  Cultural Messaging from the UGA Athletic Association and Media
Perpetuating the Football Only culture are the media and UGA Athletic Association.  They are rather effective at it.  Why else would a family with nothing better to do on a Saturday in February located a half hour away from Stegeman Coliseum choose not to see the Dawgs take on Tennessee, but would travel all the way to Knoxville on a rainy Saturday in early October?  Sound ridiculous?  Of course it is and they spend a whole lot more money doing it.
The media plays the Georgia fan base like fools.  Georgia fans hang on every word that comes out of an ESPN talking head's mouth like it is life and death.  These people are paid to give an opinion, they even hold a production meeting before coming on camera to ensure that balanced or favorable talking points for ratings purposes are made.  There's more money in college football because there is larger capacity in the stadiums, thus giving the big event effect.  Paul Finebaum does not determine a person's self-worth and neither does Kirk Herbstreit, if they do, then a trip to a therapist is in order.
ESPN does not own the rights to the NCAA Tournament, notice how the programming shifts as far as messaging is concerned.  ESPN does not have to play the role of advocate.  They have to be an advocate at least in their own minds with football because they have a financial stake.
The UGA Athletic Association creates build-up for the Football Season.  It used to be that the rubber chicken circuit was just for promotion of Football and thankfully now Mark Fox can answer stupid questions even when addressed as Mark Richt.  However, there is plenty of hype surrounding Football from First Friday to pre-game pomp to National Signing Day to the UGA Bookstore catalog with an uncomfortable Mark Richt annually on the cover.  The message is simple:  Football is what matters, these twelve games a season are all that matter.
5.  Tailgating – It's a Social Event!
It's one big party at a Georgia game and many go strictly for the party.  The football just comes along with all of it and people just remember sound bytes from the game.  The dirty secret about Georgia Football is that it is:  Come for the booze, food and women.  Stay for the football.  The weather works well in September for sundresses and getting plastered on cheap-to-moderately priced liquor and beer.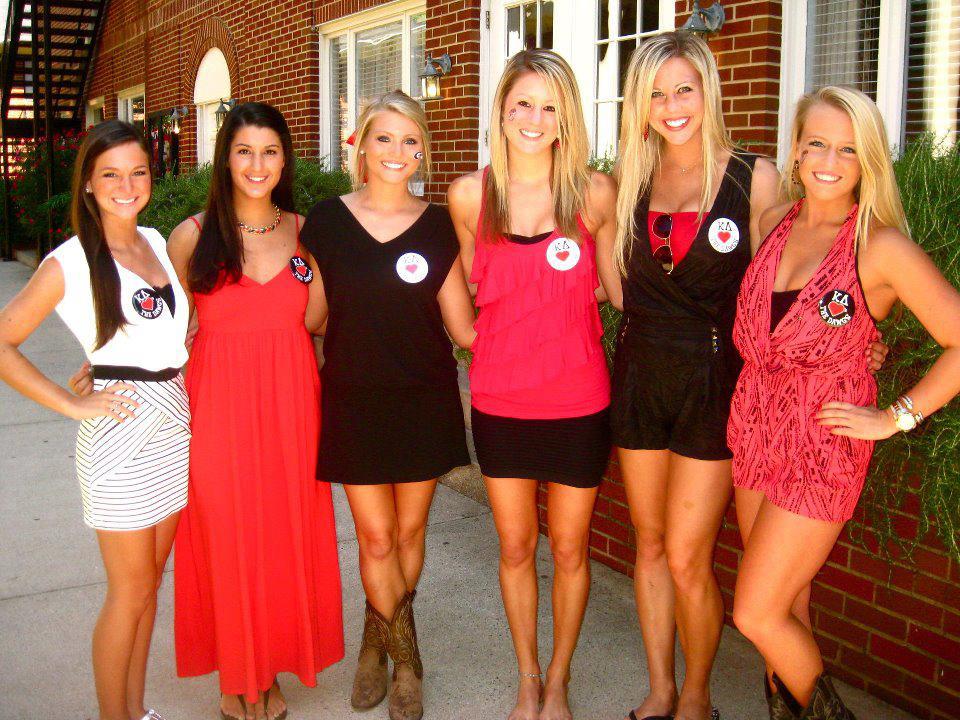 Georgia fans have not figured out that they could do this almost all year round though.  It's a party with a lot of bragging rights on the line.  Beating Auburn in Football matters far more than in Basketball?  A win is a win, right?
6.  Students & Alumni vs. Sidewalk Alumni… the Sidewalk Alumni are winning.
Sidewalk alumni forget that they are on a university campus that has a wide variety of academic and research offerings.  Students and alumni are very cognizant of what UGA means to them and it means whole lot more than just what happens Between the Hedges.  The University of Georgia is a transformative place for young men and women, it is not a place that just exists for someone to drink Bud Lights and grill out on a Fall Saturday while yelling "How 'bout them Dawgs?" in the faces of random people, including impressionable children (this behavior is not  indicative of all sidewalks).
The revelry and pedestal that Georgia Football is put on the regional and national stage lends itself to the individuals that do not have degrees from the University of Georgia to magically appear and claim the institution their own.  Sidewalk alumni have money and the University of Georgia Athletic Association along with the local businesses in Athens are more than happy to take their money in exchange for licensed goods.
Sidewalk alumni do not support other athletic programs offered for a whole host of reasons.  Their non-presence at other sporting events should actually provide the UGA Athletic Association with a different mentality as far as promotions are concerned.
7.  Bigotry and Racism (this doesn't apply to most thankfully)
Yes, everything is now considered racist or bigoted to the point where there is an inflation of outrage.  However, racism does play a small role in explaining the support for Georgia Football as compared to Georgia Basketball.  The teams are composed in a racially similar fashion, but the football players are hidden behind helmets and the most visible Football players are often times white.
With Basketball being a sport often associated with urban culture and perceived in a negative light by many and Football being a sport often associated with suburban/rural culture and seen as a disciplinary tool for young people, there is an approval of the latter at the expense of the former.  '80s rock and country music dominate Game Days for Football and they are perceived to be acceptable, but yet the thought of hip hop music infiltrating the ears is a scary enough experience for the grey haired.  It is as if the fans forgot that the individuals controlling the pregame music have discretion.  However, to some they just see UGA Basketball as an extension of "the ghetto" and the presence of a few more people with darker skin than their own makes it inferior and worthy of antipathy.
The good news is that these sorts of views are far from pervasive among the student body and younger alumni, the bad news is that there are sidewalk alumni that harbor these thoughts.  It is unfortunate that there are people of all races, ethnicities and backgrounds that hold bigoted views.  It's a global problem, not just an American problem.
Georgia Football players are seen as gladiators playing a vicious and violent game while the spectators in the Colosseum are of a different pedigree.
It is interesting to note:
A good number Georgia Football (certainly not the majority) fans hold anti-Islamic views, but would cheer for Muslim athletes because they cannot see them.  There are also fans (certainly not the majority) that hold anti-Semitic views, but possibly the most popular player of the decade is Aaron Murray, who happens to have a Jewish mother and thus by Jewish Law is technically Jewish himself.  Interestingly, Murray's religious beliefs and background were kept far more in the closet than Hutson Mason's more typical Southern Protestant faith.
8.  Geography:  Thanks, Atlanta Traffic
Driving down 316 to and from Atlanta is a pain, but it is worth it to do it 6-7 times a year to many on a Saturday.  Doing it to catch a 7 PM tipoff at Stegeman Coliseum is tough on a Wednesday Night in January.  Any excuse for not doing it for the weekends?  There really is none.
Fans from South Georgia have it tough as far as their commute back and forth, it makes sense that they would prioritize Football given the weather conditions.  Expecting someone from Tifton to come up to Stegeman Coliseum for any weekday game is unreasonable.  South Georgians cannot handle driving through freezing rain and sleet that may come up during January and February.  Distance and messaging creates a disconnect as there is no social event associated with the other sports.
Football Comes First at Georgia As Long As It Is Tolerated
It is embarrassing to see Stegeman Coliseum filled with thousands of fans wearing orange or blue.  It is even worse when it is on National Television and that is the only way to motivate the fans to make noise.  Possibly the worst thing is knowing that there are UGA Fans that think so little of the school that they would buy prime season ticket seats in blocks just to be able to make a 20-25% profit on them selling to Kentucky, Tennessee and Florida fans.  Or maybe knowing that Kentucky fans own Georgia Basketball season tickets by contributing to the Basketball Enhancement Fund is worse…  whatever it may be, these are things that would never happen for Georgia Football regardless of how the team plays.
The Football Only Culture of Georgia is alive and well, which means that the overall culture is sick.